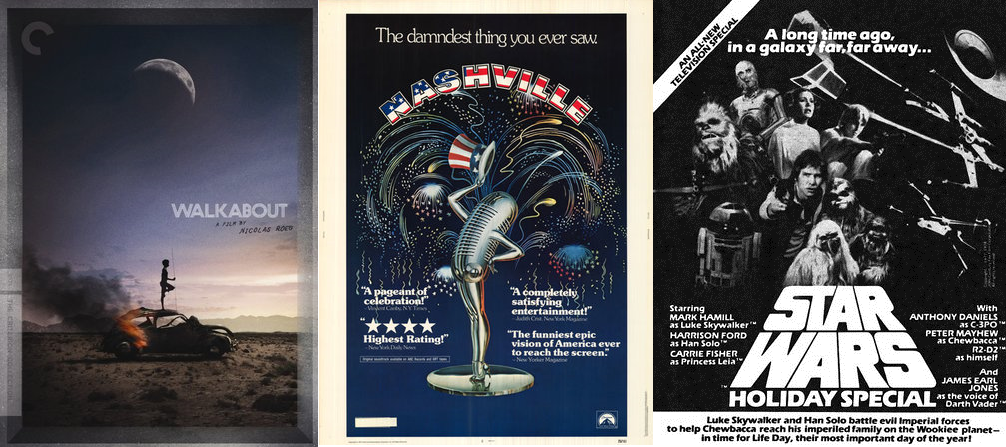 1. Teil – Challenge: "Ein Klassiker aus den 70ern"
Eine unserer geliebten Klassiker-Challenges! Dieses Mal hat es die 70er getroffen, und so hatten wir die Möglichkeit, zwei bisher verpasste Klassiker aus diesem Filmjahrzehnt nachzuholen.
In Walkabout (1971) kreuzt Nicolas Roeg Elemente des Horrorfilms und der Natur-Doku, um zwei britische Kinder allein ins australische Outback zu schicken. In Robert Altmans Nashville (1975) suchen wir die Einsamkeit dagegen vergeblich. Über 25 Charaktere begleiten wir in diesem musikalischen Querschnitt der amerikanischen Country-Szene.
2. Teil – The Star Wars Holiday Special
Da es diesen Dezember keinen aktuellen Star-Wars-Film gab, führen wir unsere Tradition stattdessen mit einem anderen Werk aus unserem Lieblings-Universum fort, das zur Jahreszeit wie zum 70er-Thema passt: The Star Wars Holiday Special (1978).
Die fürs Fernsehen konzipierte Varieté-Show lockt mit Musik, Tanz und Masturbation und genießt in manchen Kreisen einen zweifelhaften Ruf als schlechtester Film aller Zeiten. Mit allem gebotenen Ernst nähern wir uns dieser besonderen Materie und finden heraus, dass es sich sowohl um klassisches Ballett als auch um ein frühes The Last Jedi handelt.
Wir wünschen euch einen besinnlichen Life Day im Kreise eurer Liebsten und ihrer Väter!
Veröffentlicht am 22.12.2018
AT026: Die wilden 70er und Weihnachten bei den Wookiees