DinoKino ist ein Spin-Off der Archivtöne, in dem Jan jeweils einen ausgewählten Dinosaurierfilm vorstellen wird.
Da die Veröffentlichung der ersten Folge mitten in die Aktion #OweSTERN (Ein Western an Ostern) fällt, geht es um einen ganz besonderen Film, nämlich den Dinosaurier-Western The Valley of Gwangi (1969).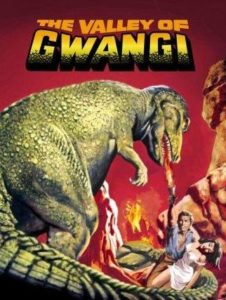 Anhand der ganz besonderen Spezialeffekte erzählt Jan die spannende Geschichte dieses Films, die noch vor dem zweiten Weltkrieg ihren Anfang nimmt. Basierend auf The Lost World und King Kong ist hier ein Werk entstanden, das Stop-Motion-Altmeister Ray Harryhausen als sein Magnum Opus bezeichnet und das den Look moderner Dinosaurierfilme wie Jurassic Park maßgeblich geprägt hat.
Wenn ihr also wissen wollt, was es mit dem Weird-West-Genre auf sich hat, wie viele Finger ein Allosaurus hat, und wie die menschliche Hybris das Böse in die Natur bringt, ist diese Kurzfolge genau das Richtige für euch.
Veröffentlicht am 01.04.2018
Der Film dieser Folge:
Buchtipps aus der Folge: (Affiliate-Links)

Weitere Podcasts zu #OweSTERN:
DK001: The Valley of Gwangi (#OweSTERN)