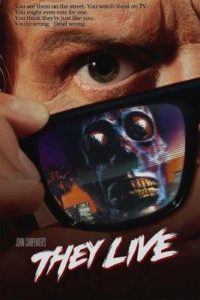 Nachdem Jan bereits im Spätfilm-Podcast über John Carpenters In the Mouth of Madness (1994) sprechen durfte, zieht Kamil nach und spricht über ein weiteres Werk dieses Regisseurs. In They Live (1988) enttarnt eine speziell angefertigte Sonnenbrille, dass die Menschheit in Wirklichkeit unter der Fuchtel fieser Aliens steht, die sich unter die Menschen geschlichen haben und diese leise mit unterschwelligen Nachrichten in Schach halten. Der Film lädt damit zur spannenden Debatte ein, inwieweit Grusel und politische Ideologien sich die Hand reichen.
Alle Infos zum #Horrorctober gibt es wie immer bei den Kollegen von der Cinecouch.
Die Liste mit den Horrorfilmen, die im Verlauf des Oktobers noch besprochen werden, gibt es auf Letterboxd.
Veröffentlicht am 12.10.2017